Anodization of heat sink
In some cases, a surface treatment on the aluminum heat sink is required by the application. This article will focus on the most common treatment used in thermal management: anodization. Following a list of different solutions, we will talk about the characteristics of anodization, some theory, norms and the manufacturing process.
Heat sinks treatments
Anodization
Surtec 650
Painting/powder coating
Others (tin or nickel plating, etc.)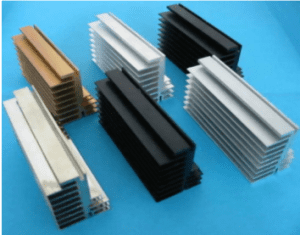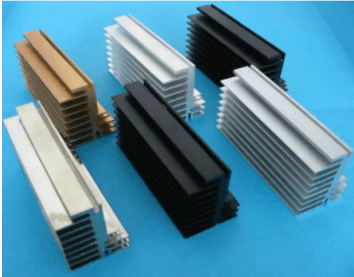 Surtec 650 is a chromium (VI)-free trivalent passivation for aluminum. It provides fairly effective protection to corrosion, is a good pre-treatment for painting, and is electrically conductive. It has a typical thickness of 1 -3 micron, and is often uncolored.
Coating can be done with different kind of paints, both liquid and solid (powder); a pre-treatment is always necessary to remove the natural oxide layer (e.g. pickling, phosphating, chromatizing, etc.). Different resins are used; polyester-based are the best in terms of chemical and mechanical resistance, as well as for external applications. Average thickness of the layers is 40-80 micron.
Anodization characteristics
Electrical insulation (breakdown voltage varies from a few to several hundred volts, depending on the alloy and on the nature and thickness of the film)
Corrosion resistance (the acetic salt spray test of ISO 9227 expects anodized aluminum to show no pitting after 24 hours)
Superficial hardness (typ. 350-400 Vickers vs. Al alloy typ. 100)
Increased emissivity (higher radiation effect in natural convection)
Abrasion resistance (especially hard anodizing)
Paint adhesion
Decorative appearance / colors improvement
Anodization theory
Anodization is an electrolytic conversion of aluminum surface to aluminum oxide. Aluminum oxide is corrosion resistant and impervious to atmospheric and salt water attack.
Colorization processes apply only to the external layers, and quality of the coloration does not depend on the thickness of oxide.
Common processes for colorization:
Dyeing: consists in impregnating the pores of the anodic coating, then sealing, using an organic coloring material
Electro-colorization: using an alternating current, a metallic pigment is electrodeposited in the pores of the anodic coating. Color depends on the metallic salt used

In some applications a combination of the above processes is used.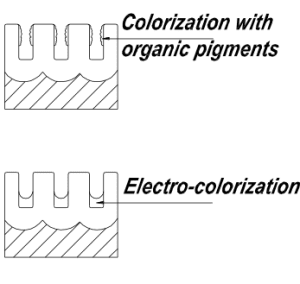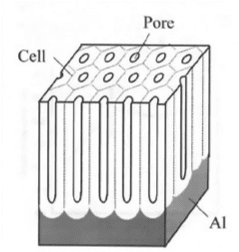 The sealing process is fundamental for the final quality of the coating and its coloration. In fact, anodizing processes cause porous aluminum oxide layers that do not increase corrosion resistance of raw material: a well-done sealing phase is mandatory. It is the last operation of the anodic oxidation cycle and guarantees protection, durability and quality of the finished product. Sealing "closes" the pores of anodic oxide:
Hot process: hydration of anodic oxide to high temperature by immersion in acidified water (100°C – pH 6 ca.)
Cold process: closing of the pores by precipitation of metallic salts (e.g. nickel hydroxide)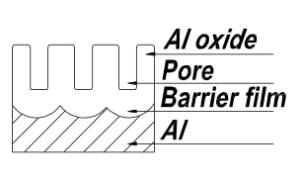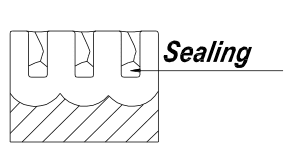 Norms
Anodization is regulated by:
Internationalreference UNI EN ISO 7599:2018 (Anodizing of aluminum and its alloys – Method for specifying decorative and protective anodic oxidation coatings on aluminum)
German standard DIN 17611: 2011 (Anodized Products of Wrought Aluminum And Wrought Aluminum Alloys – Technical Conditions Of Delivery (Foreign Standard))
UNI 10681:2010 (Aluminum and aluminum alloys – General characteristics of anodic oxide layers for use in decorative and protective field)
Thickness table – applications (UNI EN ISO 7599:2018)
Class
Min. average thickness (mm)
Min. local thickness (mm)
Applications
AA5
5
4
General internal application. This coating is used where somewhat limited protection from corrosion and abrasion is suitable.
AA10
10
8
AA15
15
12
Internal and external applications without particular pollution conditions.
AA20
20
16
External applications in locations where industrial pollution is high or in industrial marine situations.
AA25
25
20
Special applications: especially aggressive atmosphere.
Process and specifications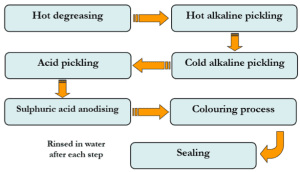 Priatherm products are anodized using SULPHURICS ANODIZING. Colorization process can be done by:
Colorization with organic pigments
Electro-colorization
Regarding the thickness of the layer, parameters for selection are:
Internal-external applications without particularly aggressive conditions:

Class AA10 – UNI EN ISO 7599 (min. average thickness 10 µm)

External applications with aggressive conditions (e.g. solar applications, sea environmental, etc.):

Class AA15 – UNI EN ISO 7599 (min. average thickness 15 µm)

Special applications / specific requirements:

Class AA20 UNI EN ISO 7599 (min. average thickness 20 µm)
It is important to specify where signs of jigging on the anodized part are allowed, because electrical contact of the process is maintained by at least 2 "fixing points" on the piece, which remain uncolored and can leave some marks on the surfaces. Usually clips, hooks in drilled holes, and jigs are used and, without particular specification, the fixing method is chosen based on its economical benefits. Customers must underline in the preliminary stage of the request whether there are critical aspects linked to the "fixing marks": necessary actions have to be agreed and specified.
Acceptable limits of variation of final surface finish are identified preferably by agreed limit samples.
Every additional requirement (e.g. color, corrosion resistance, aesthetical) shall be specified and agreed between customer and supplier at the very beginning of the project to reach the best result!
Click on the picture and download our free e-book
"Four Common Mistakes To Avoid When Selecting a Heat Sink"